Ballad of a Changing World
2020
Cellist Maja Bugge and 'Inside–Out' pianist Sarah Nicolls issue a digital yet immersive wake-up call on the urgency of the climate crisis in this 55-minute film combining emotionally-charged music with conversations about kittiwakes, a species on the move due to climate change.
This is a show about adaptation.  
The Kittiwakes are moving into our home cities – an indicator of warming oceans and changing weather patterns like increased summer storms. Meanwhile, Sarah and Maja are trying to compose and perform new music together across the internet. 
Conversations with scientists Helen F. Wilson (Newcastle-on-Tyne, UK: Sarah's home town) and Tone Reiertsen (Tromso, Norway: close to Maja's home town) about the birds and the bigger picture are interjected with intimate musical duos and the sometimes hilarious attempts to live-by-zoom.
"This was a project where science and art really came together: knowledge and emotions merging in a unusual and extraordinary way…"
Sarah (piano) and Maja (cello) are just two individuals living in the same world as you and I. They're still under lockdown in the UK, at home with their young children and husbands. They're still as aware of the climate and ecological crisis as they were two years agobut frankly, they haven't had as much time to worry about that, with Covid wiping out a lot of livegigs and their children's education. So, why do they still want to talk about the climate, about the environment?
Because it's the bigger picture. Because when Covid is defeated with vaccines, the backdrop hasn't changed. But these women are NOT doomists. Their preferred state is smiling and laughing, alongside some very intense and emotional music-making. They want joy in their lives, not unnecessary pessimism. So, they look to the birds of Tromso and Newcastle-the Kittiwakes. How do they adapt? How do they change their lives? How do the local people feel about the invasion? What do the birds' stories teach us about our own choices, our own possibilities?
This show is music and speaking, intermingling day-to-day story telling with poetic moments in a mosaic experience designed to move you, to stir you. We want to connect with the biggest things in life but only as fellow humans, all of us hoping that we can be our best. 
"By making us realise the constraint of the situation you were in during lockdown, whilst making the show, you created a deeply poetic parallel with the birds."
"This is a fantastic project and a new and innovative way of presenting art and science."
Dr Catherine Henaug, Director Norwegian institute of Nature Research
Ballad began its life at Snape Maltings Residencies (as a climate emergency semi-comic 'meeting') and was then co-commissioned by Arctic Arts Festival in Norway and Cheltenham Music Festival. Lockdown meant it became a film which is now available for screenings: contact Sarah for details.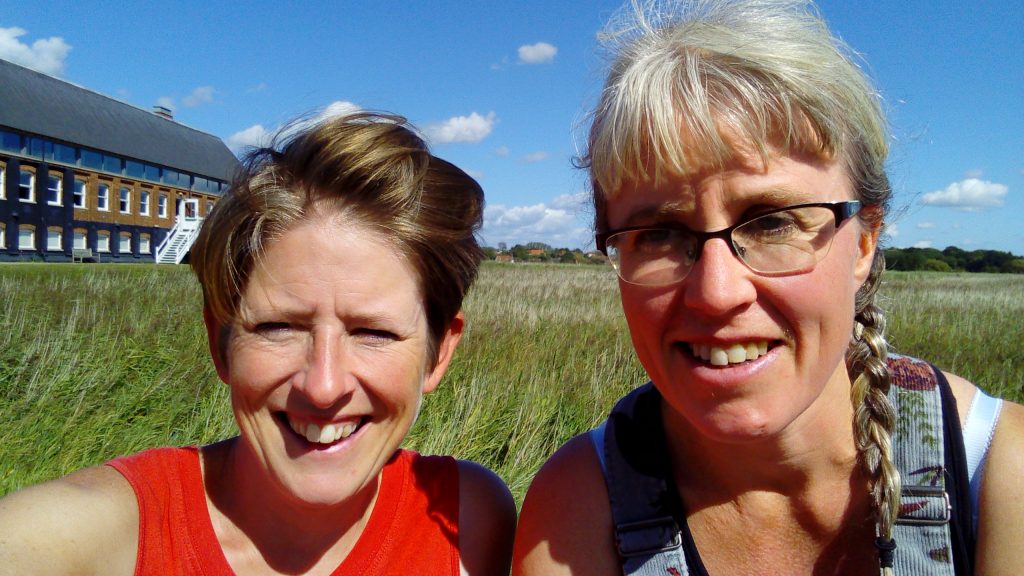 "Maja and Sarah's performance, the culmination of a week-long residency here at Snape Maltings, was a highlight of our Festival of New. The audience were completely engaged from the start, as Sarah introduced the format as a meeting, a rousing wakeup call to the urgency of the climate crisis. Sarah and Maja began by each describing a place of natural beauty that is precious to them and asking the audience to write down the same, immediately transporting us to those places we love, and hitting home what is at stake. Using hard facts and sharing fears that resonated with us deeply, we were compelled to take action for a better future for our children. This was punctuated by moments of reflection as Maja's cello and Sarah's extraordinary inside out piano responded to each other and created an emotional soundscape for the images and themes evoked in their words."
Clementine Lovell, producers residencies at Snape Malting
"You've done a fabulous job, the music is absolutely gorgeous! … the way that you've assembled the music with the narrative is incredibly effective"
Maja Bugge is a Norwegian cellist and composer based in the UK. She
has more than 20 years of professional experience working both as a solo musician and in collaboration with organisations such as Jazz North, Manchester Jazz festival, Lancaster Arts and the National theatre Oslo. Maja is also on the board for Lancaster Jazzfestival and is deeply passionate about using improvisation and composition to reflect and explore the world we live in.
Helen F. Wilson is an Associate Professor in Human Geography at Durham University. She has published widely on the geographies of encounter and the urban dynamics of coexistence.
Her current research examines the contested presence of seabirds in the city and the impacts of shifting ecologies on urban life. She is an editor of Social & Cultural Geography and a fellow of the Royal Geographical Society. Her research has been funded by the Economic and Social Research Council, The British Academy and the EU's Horizon 2020 programme. Her latest book Robin is published by Reaktion.
Dr. Tone K. Reiertsen is a scientist in ecology at the Norwegian Institute for Nature Research in Tromsø, Norway. Her main research interest are about how climate and humans impact seabird populations, and how seabirds adapt to environmental change.
She is working with many different seabird species and has extensive experience and expertise in leading project within her field. She has now an ongoing project regarding the increased urbanization of kittiwakes in Northern Norway, and how humans and kittiwakes co-exist in urban space.
Sarah and Maja's Snape Maltings residency in September 2019, led to a work-in-progress showing at the Snape 'Festival of New' 2019. It took the form of a public meeting about the climate and environmental crisis, connecting the UK and Norway through text and sound. Below are some things they built the show around and also local experts and activists they met and spent time with during the reisdency.
After learning from climate scientists that we have now only 11 years [as I update this website in 2022, that's theoretically 8 but closer emissions-wise to 6 I think] to reverse climate change, and being mothers of young children and composers/performers, we wanted to explore how our collaborative music could be used as activism. This builds on Sarah's original 'Musical Activist' project. We are hoping to be rigorously factual, whilst elucidating emotional, poetic responses using sound.  Our backgrounds allow us to move fluidly between styles (electronic, jazz, pop, classical), whilst our life experience brings urgency: trying to ensure a better future for our children.
This show was co-commissioned by Arctic Arts Festival, Norway (Festspillene) and the Cheltenham Music Festival. Maja and Sarah's collaboration began at a residency hosted by Snape Maltings Music.