'Inside the Piano' Show for children
2019
A 45-minute show for children age 5+, to introduce them to the sounds of the Inside-Out Piano. Try it yourself – see video gallery!
Sarah designed this concert to get children excited about the sounds that can be made using the 'inside' of any piano. The concert is designed so that children can go home and try all these new sounds and more inside their own pianos.
There is a beautiful, specially made handout and lots of youtube videos (see below) to guide children in their own sonic explorations.
It was premiered at the London Piano Festival in October 2019.
"Sarah presents a wonderfully engaging show that opens young (and old) ears and minds to the contemporary piano. My 7 year-old immediately tried all the techniques on our piano at home and my 3-year-old wanted to go back to the concert the next day. The handout is permanently on the piano stand now."
– Audience members at the King's Place London Piano Festival premiere, Oct 2019
The Inside-Out Piano with Sarah Nicolls
Come and experience the piano like never before: strummed like a guitar, singing like a whale and even swinging in mid-air!
Pianist and composer Sarah Nicolls invented her Inside-Out Piano so that she could play its strings more easily.  This is a grand piano whose strings run straight upwards from the keyboard, shaped so that the audience see into the instrument: the guts and moving parts are literally on show. Sarah plucks and strums the strings, plays harmonics, works with objects like glass and rubber balls to excite the strings and uses the whole body of the piano like a drum. Hear familiar melodies in new ways, and discover this much-loved instrument afresh. After the concert, children will have a chance to explore the piano close-up and talk to Sarah.
Suitable for children ages 5+
Duration: 45 minutes
"I had to stop my 5-year-old son climbing on to the stage (out of pure curiosity and wanting to get close!) and my 2-year-old daughter now says 'Inside piano' to everyone she meets!"
Programme note - hello!
Hello!
Yes, that is my amazing Inside-Out Piano standing on the stage there. Isn't it tall and beautiful? Did you know, there are 210 strings on a piano, even though there are only 88 keys? That's because some of the notes have 3 strings each. No wonder pianos can sound so loud! But they can also be soft – really, really quiet and delicate.
In this concert I want to help you imagine all sorts of things that aren't here in this room with us now. We will be thinking about the ocean and the sky. About how weather sounds. We might find some unusual characters hiding in the music.
Will you help me make stories? Did you know that music is just sound made into sentences?
I built this piano (it's the only one like it in the world) so that I could play on its strings more easily. If you've ever seen a normal grand piano, you might have noticed it is sort of lying down, where this piano is sort of standing up. I made it this way so that I could reach the strings to play them whilst I'm still playing the keys. It means I can sometimes sound like a harp, or a guitar.
There's two other things you can look at while you're waiting for me to come on stage. One is that all the strings run parallel to each other. The other is that all of the bits that are going to move (sometimes really fast!) during this concert are hiding behind the strings. (You might not know which bits they are until they move, that's true..).
Music helps me to imagine things. My job is to think of things and then turn them into sounds. When you go home after this concert, I would love you to make up a story and try to turn it into sound. Will you do that?
* * * *
Sarah Nicolls is an internationally-renowned pianist, specialising in contemporary music since 2001. She began reinventing the piano in 2008, when she built her first Inside-Out Piano. Her idea was simple: change the shape of the piano to fit the new music that hundreds of composers were writing. Even though the first directions to 'play inside' (i.e. directly on the strings) were written in 1916 (by Percy Grainger) and 1923 (by Henry Cowell), no-one had since considered how uncomfortable this was for a pianist on a normal grand piano: forcing the pianist to lean over at an awkward angle and lose all contact with the keyboard. Sarah found her new shape, with the strings running straight up from the keys, immediately better and in 2014, she commissioned Pierre Malbos to take apart this Erard grand piano (from around 1900) and put it back together in this new configuration. Sarah performs almost exclusively on it now, creating her own music using the many effects that can be conjured from the strings and keys in combination.
Sarah is now running a campaign to build a new, lightweight version. She has built a team including aerospace engineers who will work with piano builder David Klavins to make a piano that only weighs 82kg. Normal grand pianos weigh 450kg. There is some very radical engineering going on but the piano will sound like a good, normal grand piano and can be played absolutely normally too. Sarah's new Standing Grand promises to revolutionise the piano world. Please support her at tiny.cc/futurepiano.
Please connect with me online! Twitter: @sarahpiano, Facebook page: sarah.nicolls.pianist, Instagram: sarahpianolife. PLEASE share pictures of my piano with #insideoutpiano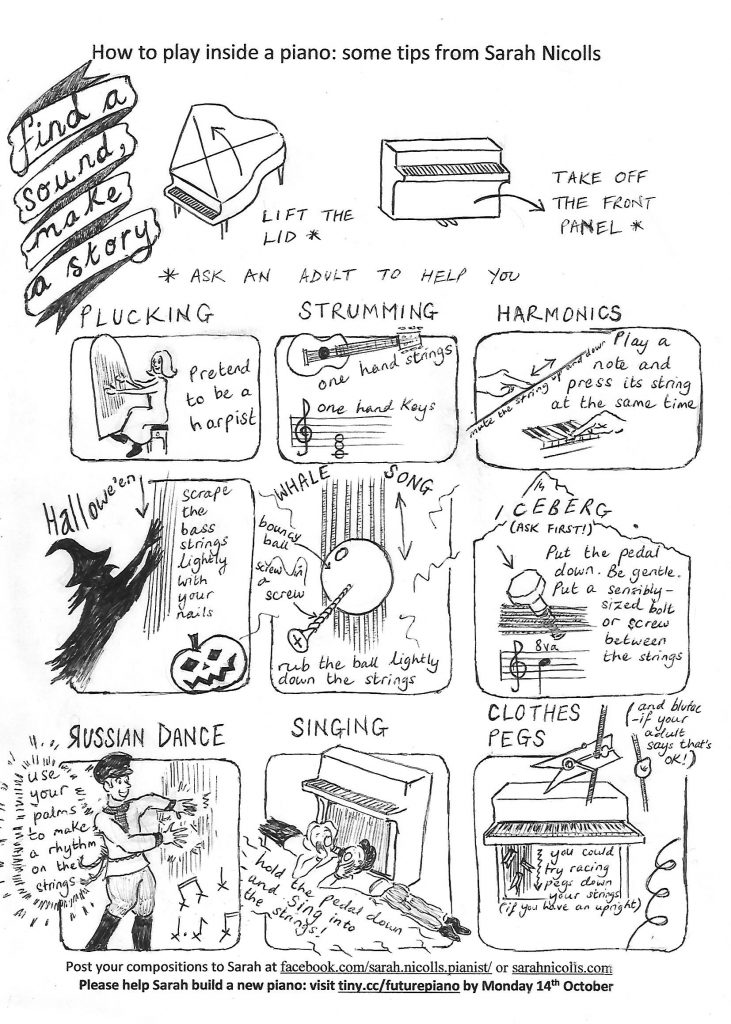 This show has been premiered by Turner Sims and King's Place.